March 10, 2014 1:28 pm ET by Luke Brinker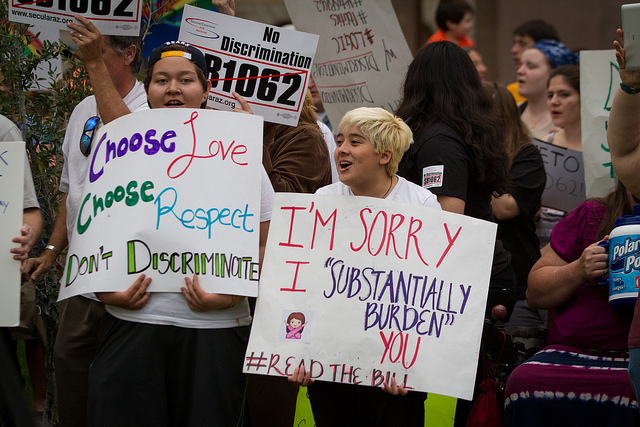 National Review has established itself as a staunch proponent of allowing business owners refuse service to gay and lesbian customers. It's a position that unfortunately aligns with National Review's record of attacking defending discrimination against marginalized groups, including its shameful opposition to the Civil Rights Movement in the 1950's.
For months, National Review's staff has worked to invent bogus justifications for anti-gay business discrimination, condemning non-discrimination efforts as a form of government overreach. Long before states like Kansas and Arizona sought to pass laws allowing business to refuse service to gay and lesbian customers, National Review was championing business owners who had been sued for engaging in anti-gay discrimination.
In August, after the New Mexico Supreme Court ruled unanimously that photographer Elaine Huguenin violated the state's Human Rights Act by refusing to photograph a same-sex couple's commitment ceremony, National Review joined other right-wing media outlets in their howls of outrage. At National Review Online, NRO contributor and Heritage Foundation fellow Ryan T. Anderson blasted the ruling as a sign that social conservatives had been "driven to the margins of culture," with "religious believers" and "the truth about marriage" under judicial assault.
NRO also took up the mantle of Colorado baker Jack Phillips, who refused to bake a cake for a same-sex couple. In a one-sided interview published under the headline "Let Him Bake Cake in Freedom," NRO editor-at-large Kathryn Jean Lopez framed Phillips, whom a state judge ruled had violated Colorado's anti-discrimination law, as a victim of anti-Christian persecution. Lopez wondered what the "future of freedom" looked like in a world where businesses couldn't turn away LGBT customers.
Given its support for anti-gay businesses, it was unsurprising that National Review cheered the introduction of several state license-to-discriminate bills this winter.
After USA Today columnist and Fox News contributor Kirsten Powers penned a column denouncing Kansas' bill as an example of "homosexual Jim Crow laws," Anderson took to NRO to defend anti-gay business practices as protected under "freedom of association and freedom of contract." Anderson saw "religious liberty and the rights of conscience," not the rights and dignity of LGBT customers, at stake.
As national attention turned toward Arizona following the demise of the Kansas bill, support for anti-gay segregation measures became National Review's official editorial position. Following the Arizona legislature's passage of S.B. 1062 - which would have protected businesses from being sued for anti-gay discrimination - the National Review's editors published a February 24 editorial urging Republican Gov. Jan Brewer to sign the measure. The "necessary" bill, the editors wrote, simply affirmed the ethos of "live-and-let live."
The "potentially dangerous" implications of bills like S.B. 1062 were enough to cause even Fox News - with some notable exceptions - to backtrack on its baseless religious liberty crusade.