NOM's Brian Brown Promotes Claim That Same-Sex Parenting Is "Akin To Child Abuse"
July 10, 2013 2:36 pm ET by Luke Brinker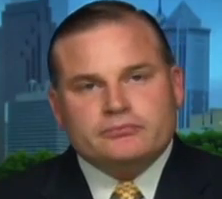 National Organization for Marriage (NOM) President Brian Brown pushed the claim that same-sex parenting is a form of "child abuse," citing the work of a rabidly homophobic anti-gay activist.
In a July 10 message to supporters, Brown laid out the anti-equality movement's strategy in the wake of last month's Supreme Court rulings on marriage equality. Brown's five-plank strategy to defeat same-sex marriage includes ways to "win the fight in the court of public opinion."
In discussing how to accomplish that goal, Brown cited the "raw and powerful" writings of extreme anti-gay "scholar" Robert Oscar Lopez, who claims that same-sex parenting is a form of "child abuse":
More and more academics and social scientists are speaking out about the good of marriage, especially for children, and the serious problems that kids experience when raised by parents in a same-sex relationship. Increasingly, members of the gay community themselves are becoming active, speaking out against same-sex parenting and the emotional trauma they say same-sex relationships can inflict on children. One prominent scholar has argued that society, egged-on by a biased media, demands that we accept and even celebrate a relationship that intentionally injures a child, depriving her of a mother or father, further victimizing the child who struggles with her emotional loss. This same scholar, who was raised by a lesbian mother and her partner, recently wrote in raw and powerful terms that he considers same-sex parenting to be akin to child abuse.
Lopez - who is closely tied to NOM's anti-equality work - has a history of making inflammatory comments about LGBT parents. He's referred to same-sex adoption of non-white children as "racist and condescending," blamed LGBT equality for creating a "global crisis of human rights violations," and peddled the myth that gay parents are more likely to sexually abuse their children than heterosexual parents.
Most recently, he speculated that Tyler Clementi - the 18-year-old Rutgers student who killed himself after his roommate secretly recorded him kissing another man - really committed suicide because he'd been raped by older men.
Given that empirical data and expert opinion have demolished anti-gay smears against same-sex parents, it's not surprising that NOM is forced to turn to fringe quacks like Lopez to advance its attacks against LGBT families.
Previously:
Robert Oscar Lopez: Tyler Clementi Killed Himself Because He Was Raped By Older Men
NOM-Endorsed Author Fears "Brave New World" Where Gay Couples Can Have Children
NOM President Promotes Article Calling Homosexuality Dangerous, Unhealthy