NOM's Brian Brown Falsely Attributes Hate-Group Quote To Chicago Tribune
October 08, 2013 10:58 am ET by Luke Brinker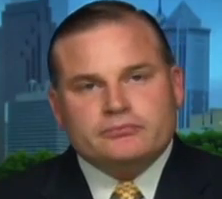 National Organization for Marriage (NOM) President Brian Brown touted an extreme anti-LGBT hate group's attack on Illinois' marriage equality bill, falsely attributing the group's criticism of the bill to the Chicago Tribune, the state's largest newspaper.
In an October 7 message to NOM's supporters, Brown denounced pro-equality "radicals" for allegedly assaulting religious liberty, citing the sponsor's statement that the legislation wouldn't allow individual business owners to discriminate against same-sex couples:
Same-sex 'marriage' radicals are at it again... the latest example comes from Chicago.

In what the Chicago Tribune rightly called "a stunning public admission" openly homosexual Democratic State Representative Greg Harris of Chicago, outright admitted in a public debate that the proposed law in Illinois redefining marriage did NOT provide religious liberty or conscience protections for individual Christian business owners.

The article continued, saying that "it was clear that both he and homosexual Chicago Alderman Deb Mell (a former state representative and co-sponsor of SB 10) oppose any such protections." (emphasis added).

Earlier this year, when trying to force the bill through the legislature, Alderman Mell claimed that warnings about future religious persecution were dishonest "scare tactics."

And so the script repeats... promise that nothing will change when marriage is redefined while knowing that religious liberties will be necessarily suppressed and people of faith are sure to be punished.
It wasn't the Tribune - whose editorial board supports marriage equality - who dubbed Harris' remark "a stunning public admission" or referred to "homosexual Chicago Alderman Deb Mell," but the rabidly anti-LGBT Illinois Family Institute (IFI), designated a hate group by the Southern Poverty Law Center (SPLC).
Despite NOM's efforts to bill itself as a moderate-toned, marriage-focused organization, its touting of IFI shows otherwise.
IFI Cultural Analyst Laurie Higgins has called same-sex parenting "a form of child abuse," and she considers homosexuality a "tyrannical, oppressive, poisonous cultural force that compels conformity and compounds the suffering of children intentionally denied mothers or fathers." The organization also advises parents to pull their children out of the classrooms of teachers who are either LGBT or LGBT-inclusive.
Not surprisingly, the IFI's framing of Harris' statement as "a stunning public admission" is also inaccurate. The proposed marriage equality bill includes an exemption for religious institutions, while hewing to the practice in other states with marriage equality of not allowing private businesses to discriminate against LGBT customers.
NOM and the IFI might wish that business owners could wantonly discriminate against LGBT individuals, but it's becoming increasingly difficult to find a good reason why the state should affirm a private individual's right to discriminate against LGBT people.
UPDATE: Bruce Dold, editorial page editor of the Tribune and host of the forum at which Harris spoke, said he did not know to what the NOM item was referring, noting the paper had not written a story about it.
"I don't know who would use that kind of language at the paper," he said, citing the use of the term "homosexual."
"We held a forum, I moderated the forum the idea was to have a good vigorous discussion on same sex marriage which I believe we did. I think both sides have an interest in addressing the issue. How they use or comment on it is up to them. I think both sides found important arguments made in their favor from the debate."
Informed that the NOM item had actually quoted from a posting by the Illinois Family Institute, Dold said the Tribune would ask that it be corrected.
"They are quoting another activist and attributing it to the Tribune. I think I will ask them to change it," Dold said. "I can't tell if it's intentional or not, but we'll ask them to fix it."
Previously:
What Makes NOM Any Different From Russia's Anti-Gay Extremists?
NOM's Morse: "God Bless" Illinois Anti-Gay Hate Group
Illinois Family Institute's Laurie Higgins: "Homosexual Agenda" Is The Greatest Threat To Religious Liberty