Remembering The 10 Worst Moments Of NOM's Marriage To The Ruth Institute
November 02, 2013 2:53 pm ET by Luke Brinker
After a three-year union, the National Organization for Marriage (NOM) and its educational arm, the Ruth Institute, are divorcing.
In a November 1 blog post, the Ruth Institute announced it has gone independent, effective immediately: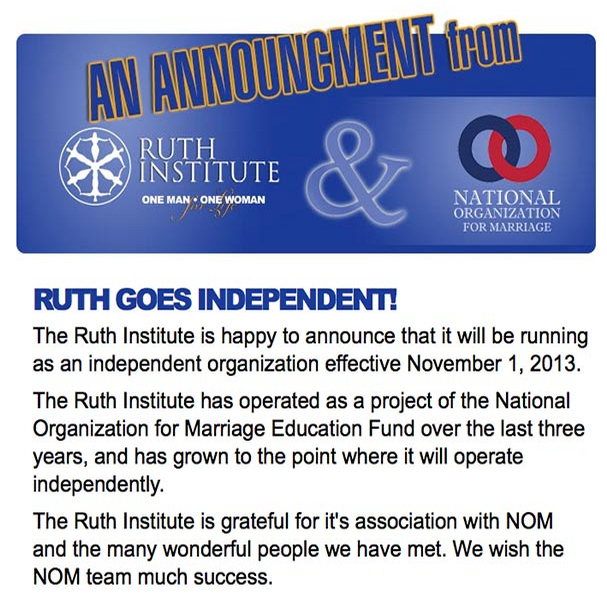 While the reasons for the breakup remain unclear, it's undeniable that the rabid anti-LGBT extremism of the Ruth Institute and its head, Jennifer Roback Morse, generated much negative publicity for NOM. Here's a look back at the group's 10 most outrageous examples of anti-LGBT animus during its association with NOM.
10. DENOUNCING THE DECRIMINALIZATION OF GAY SEX
Although NOM consistently avows that its focus is on preserving "traditional marriage," the Ruth Institute has repeatedly assailed the legalization of gay sex. In September, the institute reprinted a column blasting the LGBT movement's "mythology of grievance and sexual oppression."
The column's author, Michael Cook, asserted that Lawrence v. Texas, the 2003 Supreme Court decision striking down sodomy laws, was "built on the lies of activists" and was part of a left-wing plot to advance "America's sexual revolution." The Ruth Institute even reprinted a column which attempted to link the Lawrence decision to the Penn State child sex abuse scandal.
9. CONDEMNING THE "IT GETS BETTER" PROJECT
Following a spate of widely publicized suicides by LGBT teens, writer Dan Savage and husband Terry Miller founded the anti-bullying It Gets Better (IGB) Project in 2010. For the Ruth Institute, even a project designed to stop LGBT youth from killing themselves was unacceptable.
Labeling IGB "the youth campaign that makes everything worse," a Ruth Institute blog post in August 2011 condemned the project as a campaign that "aggressively promotes deviant sex." The post called IGB a "travesty" for not offering "LGBT teens a better way, an authentic solution to their pain." Given the Ruth Institute's record of support for "ex-gay" therapy, it's not difficult to guess what "solution" they had in mind.
8. SMEARING EDITH WINDSOR
As the plaintiff in the case against the Defense of Marriage Act (DOMA), widow Edith Windsor has become one of the most recognizable faces in the fight for marriage equality. After the Supreme Court struck down section three of DOMA, Morse mocked Windsor as a member of the "ruling class" who didn't actually need federal marriage benefits after the death of her "friend."
Morse has long portrayed the campaign for marriage equality as the pet project of an affluent white elite. At the same time, she has also depicted marriage equality as part of Marxist conspiracy to overthrow capitalism.
7. PRESIDENT OBAMA IS "MORE GAY THAN HE IS BLACK"
Appearing on Lutheran Public Radio's Issues, Etc. in October 2011, Morse said that a recent speech delivered by President Obama to the Human Rights Campaign (HRC) indicated that "he's more gay than he is black."
Morse's comment reflected her organization's shameless race-baiting in its fight against marriage equality. Following NOM's strategy of attempting to drive a wedge between the LGBT and African-American communities, Morse has repeatedly sought to promote racial division. She responded to a pro-gay adoption ad campaign in California by asking "what the African- American community thinks about recruiting gay men to become foster parents for the children of their community who have been taken from their parents." In the same Issues, Etc. interview that she called Obama "more gay than … black," Morse also claimed that Obama was pandering to the LGBT community because "blacks don't have that much money."
6. CLAIMING THAT GAY PARENTS ACQUIRE CHILDREN TO MOLEST THEM
The Ruth Institute is obsessed with the notion that gay people are disproportionately likely to be pedophiles. In December 2011, the institute promoted a book by Liberty Counsel president Mathew Staver asserting that gay parents molest their own children. Staver also repeated the anti-equality trope that if the nation legalizes same-sex marriage, the normalization of pedophilia is right around the corner.
Perhaps the most bizarre effort to link homosexuality and pedophilia, though, came in July of 2013. That was when the Ruth Institute reprinted a column by far-right author Michael Cook, who claimed that gay couples would use same-sex marriage as a "cover" to acquire and sexually abuse children.
5. SUPPORTING DANGEROUS "EX-GAY" THERAPY
Mental health experts have made clear that "ex-gay" therapy is bunk, but the Ruth Institute has been an enthusiastic cheerleader for the practice.
The institute crusaded against California's 2012 ban on so-called conversion therapy, trumpeting the anti-LGBT Pacific Justice Institute's (PJI) claim that the ban represented "one of the most chilling suppressions of speech yet." In a radio interview, Morse said the ban "shuts the door" on people who don't wish to be gay. Morse proceeded to question "the position that homosexuality is not only not a mental illness, but it's an inborn, natural, normal trait."
4. GAYS ARE "UNFORTUNATE SOULS" AND "WOUNDED"
The Ruth Institute's bigoted rhetoric toward LGBT people has consistently hampered NOM's ability to describe itself as a pro-marriage organization while avoiding accusations of anti-gay bigotry. Morse's comments in particular have pointed to the organization's deeper anti-LGBT animus. Her track record includes pitying gay people's "unfortunate souls" and lamenting that they're "wounded … because of their sexual sins." She's called anal sex "icky" and recommended that gay people live chaste lives in order to be "saved." In 2013, GLAAD created a profile of her most extreme anti-LGBT remarks.
3. GAY ACTIVISTS ARE "THE MOST LOATHSOME PEOPLE IN THE WORLD," WORSE THAN TERRORISTS
Among the most vitriolic anti-gay work to be published by the Ruth Institute came from blogger Ari Mendelson, who posted a November 2011 blog entry titled "Who Are the Most Loathsome People in the World?" To the shock of nobody familiar with the institute's work, Mendelson's answered that they were gay activists.
Mendelson linked to a blog entry which stated, "Like jihadi terrorists, many gay rights activists … want to force people to agree with them by striking fear into the hearts of all that would voice dissent." But, the author contended, gay activists are actually worse than terrorists, because unlike terrorists, gay activists "lack courage" and have to resort to "using [the] law to bully others."
Mendelson's unadulterated bigotry proved too embarrassing even for the Ruth Institute. After his rhetoric faced persistent criticism, the institute revoked his blogging privileges, promising to cover "all aspects of the marriage issue in a civil way." It was a promise that the Ruth Institute never kept.
2. EXPLOITING TYLER CLEMENTI'S DEATH TO SCORE ANTI-GAY POINTS
One of the suicides that prompted the IGB project was that of Rutgers University freshman Tyler Clementi. More than two years after Clementi's cyberbullying-provoked suicide, Morse told a group of Iowa State University students that Clementi's death highlighted the need for young conservatives to befriend "confused" LGBT youth so they could be steered away from "doing something sexual that's probably not the best thing for them."
Clementi's parents responded to Morse's remarks by stating, "To exploit our late son's name to advance an anti-equality agenda is offensive and wrong." Morse's words, the Clementis said, "prove that not only is there no low [NOM] will not sink to, to advance their cruel agenda - but that neither they nor Ms. Morse have any grip on reality."
Morse subsequently offered to meet with Clementi's parents, but she didn't back down from her stance that gay youth should be encouraged to change who they are. In a statement on Ruth's website, Morse stood by her call for gay students "to adhere to the traditional standards of sexual morality."
1. "IT TAKES A FAMILY" CONFERENCE
Each summer, the Ruth Institute hosts a weekend-long "It Takes A Family To Raise A Village" (ITAF) conference for college students in San Diego, California. The conference, billed as a forum to train the next generation of "natural marriage" advocates, features a roster of extreme speakers with penchants for making deeply offensive anti-LGBT remarks.
An undercover Equality Matters investigation of the 2012 conference highlighted the anti-LGBT animus that consumes the nation's anti-marriage equality movement. Participants were told that same-sex relationships are "dysfunctional" and "inherently unstable." Marriage equality, attendees heard, would destabilize the American family and threaten heterosexual marriage. British anti-gay activist Paul Diamond denounced former Prime Minister Tony Blair for sending his nation to "the dark side" by supporting LGBT equality. This was the conference's milder fare.
Biblical scholar Robert Gagnon delivered a speech in which he declared that "a homosexual relationship is worse than a polygamist one." Economist and anti-equality activist Douglas Allen not only touted Mark Regnerus'discredited same-sex parenting study, but also promoted the myth that children raised by same-sex parents were more likely to be sexually abused. NOM's Thomas Peters lent his support to junk "ex-gay" therapy. Vendors at the conference sold a book that claims gay people engage in behavior that they know makes them "worthy of death."
This all took place at a conference that Morse promised would be about "marriage, not gayness."
While the Ruth Institute has done much to underscore NOM's strident anti-LGBT bigotry, the organizations' separation doesn't make NOM any less extreme in its opposition to equality. NOM has shown that, like its erstwhile partner organization, it's willing to broaden its focus beyond the marriage debate, despite what its founders claim.
Recently, NOM has called for LGBT people to be "pressured" into sexual conformity, launched a campaign against California's new law protecting transgender students, and thrown its weight behind extreme "ex-gay" groups. Most disturbingly, NOM President Brian Brown has made at least two trips to Russia to meet with leaders of the country's campaign to crack down on LGBT citizens. Even without the help of the Ruth Institute, NOM still has much anti-LGBT bigotry to explain.
Previously:
NOM: LGBT People Need "Purification," Not "Celebration And Affirmation"
NOM Reprints Column Blasting Hate Crime Laws, Legalization Of Gay Sex