No ENDA Lie Is Too Ridiculous For The Washington Times
November 11, 2013 4:43 pm ET by Luke Brinker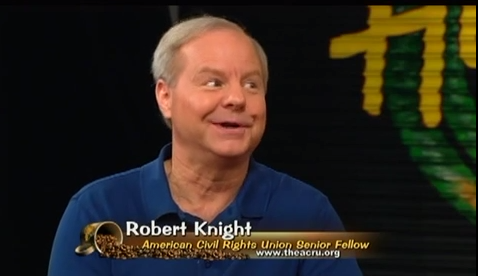 Continuing its misinformation campaign against the Employment Non-Discrimination Act (ENDA), which bans workplace discrimination based on sexual orientation and gender identity, The Washington Times published a column falsely asserting that the legislation would trigger a wave of lawsuits, impose quotas, and lead to the criminalization of conservative religious denominations.
In a November 10 column for the Times, American Civil Rights Union senior fellow Robert Knight blasted ENDA as a bill that would "expand government and repeal the Bible":
The Employment Non-Discrimination Act doesn't say that directly, but its core meaning is that employers — and their employees — must accommodate every sexual expression under the sun or face federal prosecution and nuisance lawsuits by the American Civil Liberties Union.

House Speaker John A. Boehner said the bill would not reach the House floor. People who believe in the freedoms of speech, religion and assembly, not to mention what's left of property rights, had better hope he keeps his promise. This is about so much more than the threat of "frivolous lawsuits."

Even if you're not persuaded by moral arguments, the Employment Non-Discrimination Act is a massive expansion of federal power and a gift to trial attorneys, who are among the largest donors to the Democratic Party.
In reality, no serious observer expects ENDA to spur a rash of lawsuits. A study by the Government Accountability Office (GAO) examining states with LGBT workplace protections demonstrated that only a tiny fraction of states' employment discrimination complaints were based on sexual orientation and gender identity. Over a five-year period, less than five percent of California's discrimination complaints were from LGBT workers. In Colorado - which tracked sexual orientation- and gender identity-based complaints separately -- only 5.5 percent of employment discrimination complaints were based on sexual orientation, and a mere 0.29 percent were based on gender identity. In Iowa, the respective figures were 3.6 percent and 0.6 percent. The nonpartisan Congressional Budget Office (CBO) expects ENDA to increase complaints to the Equal Employment Opportunity Commission (EEOC) by a modest five percent.
Knight proceeded to distinguish other protected categories, like race and sex, from sexual orientation and gender identity, which "no one would know" about if not for employees' "behavior":
Far from ensuring equality, the bill is a radical departure from civil rights laws, whose protected classes stem from immutable characteristics with no moral content, such as skin color, place of birth or sex. The exception is religion, which is guaranteed by the First Amendment.

What makes "sexual orientation" or "gender identity" different is that these categories are vague, not immutable, and the associated behaviors have moral implications. In fact, behavior defines the groups. Otherwise, unlike race or sex, no one would know.
Knight's argument is flawed on several counts. First, federal law already prohibits discrimination for a number of behavior-based characteristics, like religion and marital status. Second, ENDA also bans discrimination on the basis of perceived sexual orientation and gender identity, which can be based on factors including an employee's mannerisms, speech patterns, and even facial features. Moreover, the American Psychological Association's (APA) has stated that sexual orientation isn't a choice and that an individual's gender identity is a real, deeply rooted aspect of his or her life.
Knight goes on to suggest that ENDA would create federally enforced quotas for LGBT employees - something the text of ENDA actually explicitly prohibits:
Imagine "civil rights" lawyers under the Obama Justice Department invading workplaces to ensure that there are an acceptable number of men wearing dresses, along with homosexual-related hires, promotions and celebrations.
Dismissing the law's recently-broadened religious exemption, Knight went on to predict that "we're well on the way to a day when the feds are editing sermons and punishing churches that don't have priestesses performing same-sex ceremonies." What this has to do with telling businesses that they can't fire LGBT workers just for being LGBT isn't clear.
For what it's worth, Knight also doesn't seem to understand how the separation of church and state works; having a federal official come in and edit a church's sermon would never pass constitutional muster, and given the distinction between religious and civil marriage, no church will ever be forced against its will to perform a same-sex wedding. Knight's decision to bring these completely unrelated issues into the ENDA debate is telling, however. It's not principled, fact-based arguments that undergird the ENDA opposition. It's made-up anti-LGBT horror stories, pure and simple.
Previously:
Wash. Times Responds To Historic ENDA Vote By Publishing Op-Ed From Hate Group Leader
Debunking Conservative Lies About The Employment Non-Discrimination Act (ENDA)
Washington Times Continues Baseless Attacks On San Antonio Anti-Discrimination Proposal