June 19, 2014 6:27 pm ET by Luke Brinker
On June 19, the National Organization for Marriage (NOM) held its second March for Marriage - an event that proved to be largely a repeat of last year's march, with dismal attendance, bussed-in supporters, and examples of anti-gay animus on display.
An estimated 2,000 attendees convened at the U.S. Capitol for a rally culminating in a march to the U.S. Supreme Court. As he did for last year's event, anti-equality State Sen. Ruben Diaz (D-NY) bussed in a large group of mostly Spanish-speaking evangelicals from the New York area, after promising rally-goers an expense-free trip to Washington to "visit the monuments." Equality Matters approached several attendees to ask about their reasons for attending the rally and their means of getting there, only to be told that they spoke little English.
Throughout the rally, speakers like Fox News host and former Gov. Mike Huckabee (R-AR), former Sen. Rick Santorum (R-PA) and Archbishop Salvatore Cordileone of San Francisco stressed that the rally was pro-marriage, not anti-anybody. But as others monitoring the event documented, anti-gay animus was clearly on display.
One rally-goer held a sign declaring that people who "embrace homosexuality" do so because they "hate God and love to be sinful," instructing gay people to "repent":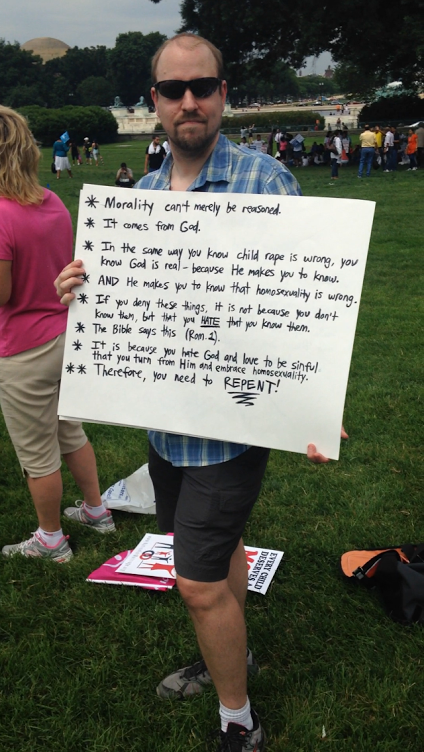 "Repent or perish," another sign ominously warned:
Another attendee's sign denounced "sodomy & abortion" as "wrong":
In an interview with Equality Matters, one attendee predicted "violence" if marriage equality came to pass nationwide. Pressed on whom he thought would perpetrate violence, the man noted that many people are "angry" about same-sex marriage and stated that he didn't want "what homosexuals do" recognized as equal to his marriage: