The spokesman for the National Organization for Marriage's (NOM) Anti-Defamation Alliance is doubling down on his decision to call the president of the United States a "terrorist."
Damian Goddard – spokesperson for NOM's Marriage Anti-Defamation Alliance (ADA) – published a post on his blog chastising Americans considering moving to Canada as a result of President Obama's reelection. In his November 8 post, Goddard urged conservatives to stay in America and fight against Obama, who he called "the Terrorist-in-Chief":
[S]top your complaining. Please. For the love of God.

You live in the freest country ever known to mankind. As the anthem states, America is the land of the free but freedom comes with bravery, not running and hiding. Your job is to stay. And fight. For the battle is still ongoing.

You leave, the terrorists win. And heck, isn't that what the Terrorist-in-Chief wants, anyway?
Goddard's comments were captured by Good As You's Jeremy Hooper and quickly began appearing on other LGBT blogs.
Goddard defended his comments on Twitter, explaining that Obama "strikes terror into the souls" of traditional marriage supporters: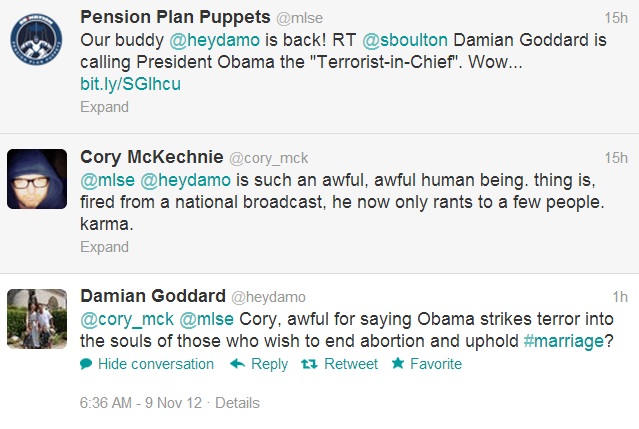 Goddard's brazen defaming of President Obama is especially ironic considering that the Marriage ADA has yet to provide any examples of actual defamation against supporters of traditional marriage.
Previously:
Looking Back At NOM's Failed Marriage Anti-Defamation Alliance
He Doesn't Even Go Here: Meet NOM's New Anti-Defamation Alliance Spokesman
Copyright © 2010 Equality Matters. All rights reserved.